The New Silverwing Third Edition With Sculptured Back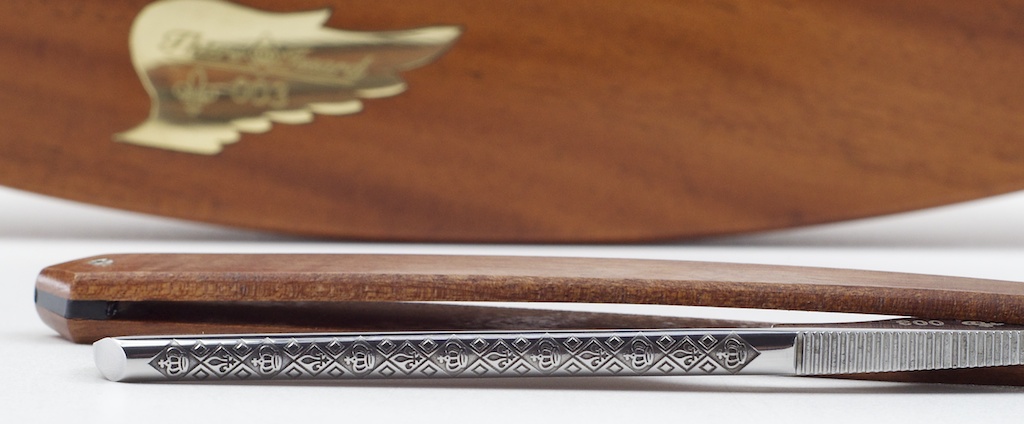 After designing, improving and testing... here it is:
The new Silverwing Third Edition limited to 350 pieces worldwide.
This time Thiers Issard did something no one did before: They designed a new and marvelous 3-D pattern for the back!
Thiers Issard found a special machine which is capable of cutting into round surfaces. Usually you can cut only into flat surfaces and even then not so deep and beautifully as this Crown and Fleur de Lis pattern has been done.
Deeper areas are darker and the higher ones are highly polished.
With this new straight razor Thiers Issard is making history again and will enrich every straight razor collection.


And there is even more:
The scales and the box are made from 100 years old cuban mahogani. The wood has been laquered then sandpapered lightly again and polished in the end so it looks really alive and vivid.
It will become darker over the years and more reddish in color and will gain character this way.
The first sequence of the back pattern has been cut deeply into the front of the scales too. So there is much to discover and enjoy here but see the photos for yourself.
The new 11/16 blade made from the famous Carbonsong C 135 steel has been hardened to way above 60 Rockwell (HRC). This way the razor will have an excellent sharpness and very long edge retention. The design of the blade derives from the legendary 1/4 grind Le Grelot.
This razor has a 1/4 grind too which is as near as possible to the old 1/4 grind Le Grelot. (
You will find more razors with this grind at the Le Grelot Likes page here in the shop.
)
The thumb notch and upper side of the shank have been serrated for a superb grip.
This is an excellent razor for the straight razor novice as for the advanced shaver and a must have for collectors for sure!
The shave is marvelously smooth and gentle. I recommend this razor even for very sensitive skin.

Limited to 350 pieces worldwide.
This item is SOLD OUT and will NOT be available for order.