The probably beautifullest straight razor Thiers Issard ever made:
The new Oakwing "G"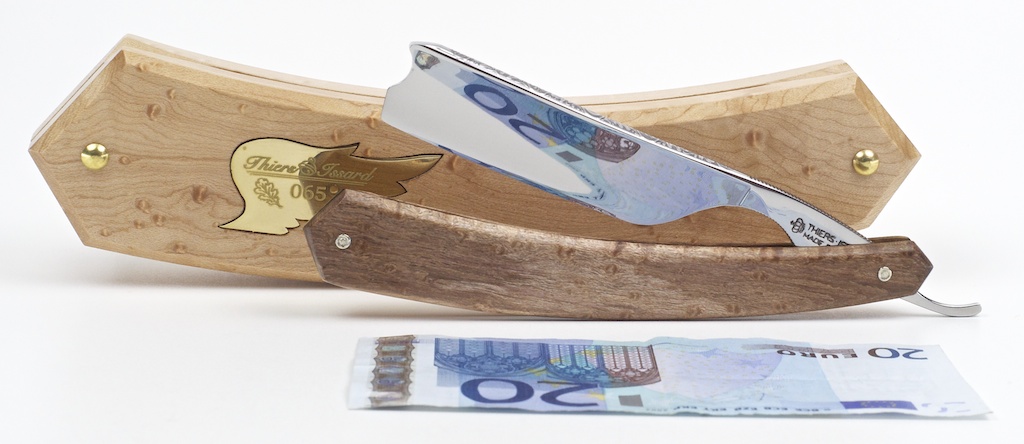 The New Oakwing G Limited Edition With Sculptured Back.
This would be the fourth Silverwing Edition Thiers Issard made but this time they've created a completely new and stunning Limited 7/8 Razor Edition and named it:
Oakwing G.
The name comes from its back decoration with oak leaves and little bells (Le Grelot) and a "G" in the middle. So this razor is a hommage to the 1/4 Le Grelot.

The really interesting and stunning part is:
Every oak leaf is done slightly different!
This way the decoration appears to be naturally "grown" into the back and not manufactured.
No razor maker did this before (and I doubt that anyone will try to do so in the future).
Like with the new Silverwing III the decoration was cut with a special 3-D machine into the metal.
Deeper areas are darker and the higher ones are highly polished.
And there is even more:
The scales are made from stabilized and pigment dyed figured Marple and the presentation box is made from varnished marple.
The production of the scales takes a lot of effort. The wood is hand selected, then it will be resin impregnated and dyed with a Chocolate pigment inside a vacuum.
After drying, the scales will be cut and put together in their resemblance and will be polished.
This process makes the wood very water- and UV resistant and highly polishable without loosing its natural feel and look (it stays wood and does not turn into "plastic").
You will find stabilized and pigment dyed woods only in custom razor (or kinfe) production because of its high price and rarety.
Thiers Issard made it possible for you to get a "serialized custom razor" for a low price.
The new 7/8 blade made from the famous Carbonsong C 135 steel has been hardened to way above 60 Rockwell (HRC). This way the razor will have an excellent sharpness and very long edge retention.
The design of the blade derives from the legendary historical 1/4 grind Le Grelot.
This razor has a 1/4 grind too which is as near as possible to the old 1/4 grind Le Grelot.
The thumb notch and upper side of the shank have been serrated for a superb grip.
This is an excellent razor for the advanced shaver and a must have for collectors for sure!
The shave is marvelously smooth and gentle. I recommend this razor even for very sensitive skin.

Limited to 450 pieces worldwide.
SOLD OUT!
If you are looking for a marvelous straight razor with the same blade as the Oakwing just without the spinework and without the limitation, please have a look at the
Le Grelot likes
.
These razors have the same 7/8 blank.